Sorry for being silent for a while, we've been focusing all of our time & energy on finishing the collaboration part. The good news is, we're almost there.
In order to give you a useful teamwork collaboration software from the very start, we've just released three big updates:
Task Statuses – Open, Doing and Done
Now every task has its status. They can be seen as: Open, Doing and Done. You can easily change the status of the task from the list, or directly from the task's detail when you open it.
With this status feature you're able to mark tasks on which you're currently working as "Doing",  and "Done" those you've just finished, but need to review one more time before you archive them.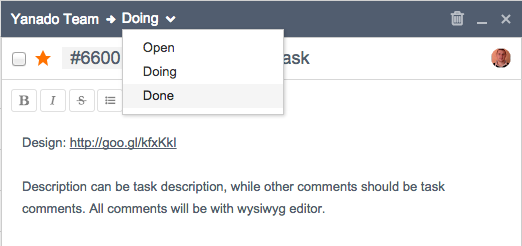 This feature will shine once we launch the teamwork collaboration, because you will be able to track who is doing what, what's done and what still needs more attention.
Card View – See Your Tasks as Cards
There are two types of people in this world. The ones that like to write lists of things they need to do and those that use cards and sticky notes.
So far, we have covered the first group.
By launching the Card view, which allows tasks to be sorted like cards (think of kanban and Trello), we'll be able to cover the second group as well.
This will give you a visual overview of what's going on with your work and your team.
Check the image bellow to see where to click in order to change how your card view looks like.
Group by Option – For Grouping Tasks
In order to maximize your ability to organize your tasks, we also launched the Group by option.
Now you can easily group tasks by statuses, tags and users. Also, directly from my tasks, you can group your tasks into lists.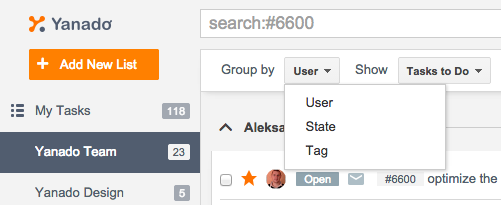 You can easily see how many task you have opened and on how many tasks you're working on right now. Also, you can see who is working on what in your team (team collaboration must be enable for you), so you could easily organize their tasks with tags.
We really hope these features will be useful to you as much as they're useful for us.
Soon we will publish several use case scenarios to give you an idea how you can use group by option, statuses and tags in order to better organize yourself.
Oh, if you want to get our teamwork collaboration NOW, just message me from Yanado or send me an email and I'll give you the access to our VIP list.
Have fun with our new features!